Houston Iron Recycling with Gulf Coast Scrap Metal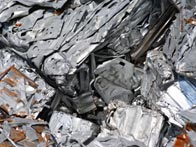 Are you looking for the best scrap iron prices in town? The Gulf Coast Scrap Metal is for you! We combine competitive prices with quality service so that our clients have a relaxed and lucrative recycling experience. Call us at 713-868-4111 or visit our facility (8770 Hempstead Road) for Houston iron recycling.
Finding Scrap for Houston Iron Recycling
Being one of the most popular metals in the world, iron can be found almost anywhere. The hard part is finding iron that recycling facilities will buy. Luckily, Gulf Coast accepts a variety of types of iron for Houston recycling.
We will pay a good price for cast iron products, iron railing, wrought iron fencing, and automotive iron (such as heads, gearboxes, blocks, etc.). Furthermore, we accept a wealth of iron used for industrial and architectural purposes. Our knowledgeable staff can come to you and evaluate your scrap metal to determine if it is fit for recycling.
Metal Recycling Made Easy
Helping the environment should not be a hassle. Gulf Coast offers many free services so that we can make your recycling experience as easy as possible. Below are some of the services we offer FREE OF CHARGE:
Wire stripping
Alloy testing
Jobsite pick-up
Evaluation of scrap
Quotes
Container service
Come to Gulf Coast Scrap Metal for the best iron scrap prices in town. Call 713-868-4111 to learn more about our iron recycling and current prices.